GARR TOOL on Machining Cloud
GARR TOOL is available on Machining Cloud
Originally posted March 6, 2018

Over 10,500 GARR TOOL items are available on MachiningCloud — solid tools including drills, end mills, and reamers. GARR TOOL manufactures high performance solid carbide cutting tools. MachiningCloud is a product data provider for cutting tools, CNC machines and workholding.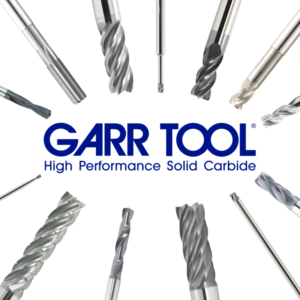 The GARR TOOL MachiningCloud partnership utilizes the convenience of cloud-based technology, which enables customers to optimize the way they gather information for their manufacturing operations by effortlessly searching for proper cutting tools that best fits their cutting conditions without having to search through catalogs or multiple websites.
Furthermore, GARR TOOL customers will be able to increase productivity and achieve greater accuracy by easily downloading descriptive, usage and geometric information directly into their shop floor software, such as CAM, simulation, and tool management systems.
"We at GARR TOOL are excited to partner with MachiningCloud to offer our entire catalog in digital format. With the shift to Industry 4.0, we anticipate this will add tremendous value to our existing and future customers, who rely more and more on instant and easy access to information that can greatly increase productivity. GARR TOOL continues to innovate and leverage new technologies to improve our customer experience. We are proud to be part of the leading edge of machining technologies." –Jeff Leppien, Vice President of GARR TOOL
"We are extremely happy to offer GARR TOOL customers another channel to obtain the digital data needed to quickly find the right tools for their jobs without spending too much time searching through various resources.", says Pierre-Francois Tavard, Senior Product Manager for MachiningCloud. "By utilizing cloud technology and industry standards, including ISO13399, STEP, GTC and MTConnect, MachiningCloud is capable of serving up-to-date product data to virtually any shop floor software or system."
###
About GARR TOOL
GARR TOOL, an ISO 9001:2015 certified company, manufactures high performance solid carbide cutting tools in a 200,000+ sq. ft. facility located in Alma, MI. Founded in 1944, products are 100% made in the U.S.A. and include end mills, drills, reamers, roughers, and rotary files/burrs. As part of GARR TOOL's unequaled customer service, standard tools are shipped from stock within 24 hours at a 99+% fill rate. GARR TOOL has opened a facility in the U.K. to maintain that same level of service for European customers. With state-of-the-art CNC grinding equipment run by experienced operators, Garr Tool Company continues to invest in new technology to meet the needs of its customers. To learn more, visit www.garrtool.com.
About Machining Cloud
MachiningCloud is dedicated to leading a digital shift within the discrete manufacturing industry to deliver a new level of operational efficiency. Cloud-based applications, resources, services, knowledge, and digital product data from the world's leading manufacturers of cutting tools, machine tools, workholding and specialty products are providing efficiency improvements by facilitating the flow of data to and from today's data intensive shop-floor.
For cutting tool manufacturers and their customers, the MachiningCloud app is an Industry 4.0 solution delivering up-to-date cutting tool manufacturers' product knowledge and data, fast-tracking cutting tool selection, CNC programming, simulation and shop floor operations. By providing data from the world's leading suppliers, MachiningCloud eliminates the hassles of searching through printed catalogs, telephone calls and multiple websites to find optimal tooling, while also removing the burden of manually typing tooling data into CAD/CAM software.
For more information about MachiningCloud, Smart Manufacturing and Industry 4.0 solutions, please visit www.machiningcloud.com.